INDIAN RIVER ATV CLUB INC.
ABOUT US
Indian River ATV Club Inc. is a family orientated club that believes in safe and fun riding. We sponsor and participate in many rides and fundraisers, and donate money to local charities. We also have work days where we repair and build trails.
We are located in Theresa, NY on the Rivergate Trail, in northern Jefferson County, and we work closley with the Thousand Island Land Trust to fix and maintain the Rivergate trail system.
So if your ready to belong to a club that cares about the future of ATV riding there is only one choice, the Indian River ATV Club Inc. Membership applacations are available on this website or by e-mail, or you can attend a monthly meeting and join right there.
CLUB OFFICERS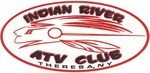 Next meeting will be Monday April 21,2014 - 7pm @ Woodland Market- Main St Theresa (across from Sportspage Pub)
UPDATE::: NEW WEBSITE **** WWW.INDIANRIVERATVCLUB.COM **** CHECK IT OUT AND PASS THE WORD!
****TRAIL CLOSED: from CR136 (McConnell's Farm) to the sand pits in Theresa due to a culvert washout. The only way around is by road, pass the word and stay tuned for updates **********
** Our website address has changed to www.indianriveratv.20m.com **

**NEW** Check out the IRATV Albums!
If you have pics of our rides Please e-mail them to us, or give us a shout.
Trail Committee Chairman: Open @ this time
Trail Committee Members: Mark Chant
Ride Coordinator: Mark Chant